Basketball is a sport that has been played for a while at School but mostly as a hobbie or leisure activity, but this year with coaches Mario Perera and Favio Freire our aim is to bring basketball as the School´s third sport competitive-wise.
A few weeks ago we played against Stella Maris and yesterday, 15th May, we oplayed agaisnt Uruguayan American School. We have several other matches scheduled ahead in order to keep improving. Our initial focus if for the team to play from 8 to 10 matches throughout the year. The team is composed of approximately 25 3YL and 4YL students. They practice Mondays and Fridays 17:15 and Wednesdays 1630.
Everyone is invited to join!
El pasado sábado 11 de mayo un grupo de alumnos voluntarios de 5to y 6to año de liceo (en el marco de su programa CAS) fueron parte de la Colecta de TECHO en su edición 2019.
A pesar del frío y la lluvia nada frenó uno de los grandes eventos solidarios del año.

¡Gracias a todos quienes de un modo u otro fueron parte!
The School has a tradition of fruitful collaboration from its Learning Community, making this a solid foundation for establishing our School Mission.
The School understands that partnerships with parents and families benefit the students and value the perspectives they bring to the learning community in support of student learning, growth, health and well-being.
The direct collaboration and involvement of the Learning Community fosters shared decision-making, the exchange of ideas and experiences, and supports the common goal of reflecting on the transdisciplinary learning experience. This, in turn, helps all members of the learning community to grow as learners.
This year Form 1 and Form 2 have already experienced welcoming members of the School family into their classrooms.
Form 1 - How we express ourselves
Students observed and appreciated how our learning community worked with different media and expressed themselves in different ways. They investigated how the use of different techniques and the artist´s choice of materials, colour and shapes provokes a range of feelings in them and in the audience.
Form 2 - Who we are
Students developed their understanding of how to stay healthy and incorporate habits of personal hygiene into their daily routines when a member of our community arranged a visit from various professionals: dentist and nutritionist.
We would like to thank parents and professionals who joined/ contributed to these units of inquiry with our students.
En la salida didáctica del viernes 3 de mayo con los grupos 4A y 4B, se pudo abordar existosamente los problemas estéticos, históricos y filosóficos del arte contemporáneo, a partir de un recorrido por las instalaciones de la ex cárcel de Miguelete, donde se pudo apreciar y trabajar el concepto de Panóptico de Bentham, así como un recuento histórico de la cárcel desde su creación en 1888. En lo que concierne a las instalaciones artísticas, nos enfocamos en dos artistas cuyas obras nos permitieron problematizar el mundo actual, desde una perspectiva original, abordando temas como el amor, la guerra, los vínculos digitales, la opresión, las minorías, etc. Los alumnos se mostraron curiosos y motivados con la propuesta del Espacio, y asimismo, el "feedback" del espacio hacia la institución fue muy positivo.
"This morning we went to a chat about recycling. A lady came from the IMM. Her job is to check levels of contamination in the environment and tries to solve the problems when they are too high.
She told us about the importance of recycling and what things can be recycled and what not. There are special places for certain things that should not be thrown in the general rubbish – light bulbs, phones (take to Antel), computers, batteries (they can't be recycled but you can't throw because some contaminate the environment) and medicines (take to pharmacies).
38% of waste can be recycled – when the truck collects the containers from the streets, they take them to a place where the rubbish is classified by colour and material. Some things can be reused and those things are taken out, then the things that cannot be recycled are put in the landfill.
Containers in the streets have 3 colours:
Orange = recycle
Green = rubbish
Red = re-use
The lady told us that the most important thing we need to do is to educate people to throw things in the correct places, we must all classify our rubbish!
The talk was very interesting, we learned a lot and now we need to tell all our companions about what she said."
Belen Scasso and Maria Victoria Martinez (Form 5)
En la jornada del miércoles 24 de abril se realizó una salida didáctica organizada por el Departamento de Humanidades al molino de Pérez. En la misma, participaron los estudiantes de la generación de Year 1. El objetivo de esta salida fue acercarse a conocer el espacio geográfico local, poniendo en práctica algunos de los contenidos teóricos abordados (y que se abordarán) en clase. Entre otras actividades, se recolectaron (para posteriormente analizar) datos primarios sobre tiempo atmosférico, suelo y caudal, y conocer «in situ» la historia del Molino de Pérez.
The first two days in Auckland were spent doing some light training and visiting sights such as the historic city centre, Skytower and Waikehele Island, as well as the boys tackling the 'Sky Screamer'. The team then moved to Hamilton to play against Hamilton Boys High School. We were very grateful to our hosts, who looked after us wonderfully, even though it was in the middle of their two week Easter holiday. The British Schools won an entertaining game 45-33, playing some very good rugby and everyone played a half. It was an ideal start to the tour.
The second game against St Patricks College from Sydney was also won (34-12), and again we were really well looked after by our hosts.
That completes the playing side of the first part of the trip before we head to Japan on Thursday afternoon for the Sanix tournament.
SANIX WORLD YOUTH TOURNAMENT
The British Schools played their first game of the Sanix World Tournament against Saga Technical High school from Saga, Japan. The team played well, winning 24-7 to give themselves a good start in their group. The other two teams, Exeter College from England, and Osaka Toin High School from Osaka, Japan drew 31-31. It was a tough game, as are all the games here, but The British Schools controlled the second half with very sensible play and a lot of strong defending. The forwards scored two tries from close range, and the constant pressure made Saga give away penalties, of which four were kicked for the other points.
The second game was played against Osaka Toin. In heavy rain and horrible conditions, The British Schools lost 3-35 to a very powerful side, who are in fact the Japanese school champions. There was a rest day before the final group game against Exeter College. The rest day was spent visiting the historic city of Nagasaki, where they visited the site where the second atomic bomb was dropped in August 1945. Where the bomb landed is marked today by a peace memorial, and nearby is the Memorial Museum, which tells the story of the dropping of the bomb and its after effects. The boys admired the museum with a deep sense of respect, understanding that what happened there marked a milestone in the history of humanity.
The final group game was against Exeter College. At half time the opposition led 14-7, but a combination of two injuries to our front row players, good play by Exeter and general fatigue saw us lose 7-29.
This meant we finished third in the group, and so did not qualify for the main competition for the top eight places. However, the day after, we bounced back to beat Enisei -STM, the Russian champions in a very hard fought encounter and so go forward into the semifinals of the plate completion which will be played on Saturday.
The competion is extremely hard, of a very high standard and we are learning are all the time. Friday is a rest day before the last two days of the tournament.
After beating the Russian champions, The British schools played a strong Japanese side, Higashi in the 9th-12th place championship, but we were well beaten by a strong and very well drilled side. The following day was finals day, and we played a very hard and entertaining game against a school from Kyoto, winning 45-40, to finish 11th in the tournament, which was a fair reflection of the strength of the team and the strength of the tournament. The final was won by Paul Roos Gymnasium from South Africa. They have had more Springboks in their history than other South african school, which how's how strong they were. They beat St Josephs, from Auckland 52-5 in the final, and they are the current New Zealand champions!
The boys played well through the tournament, always showing the determination necessary to play at this level.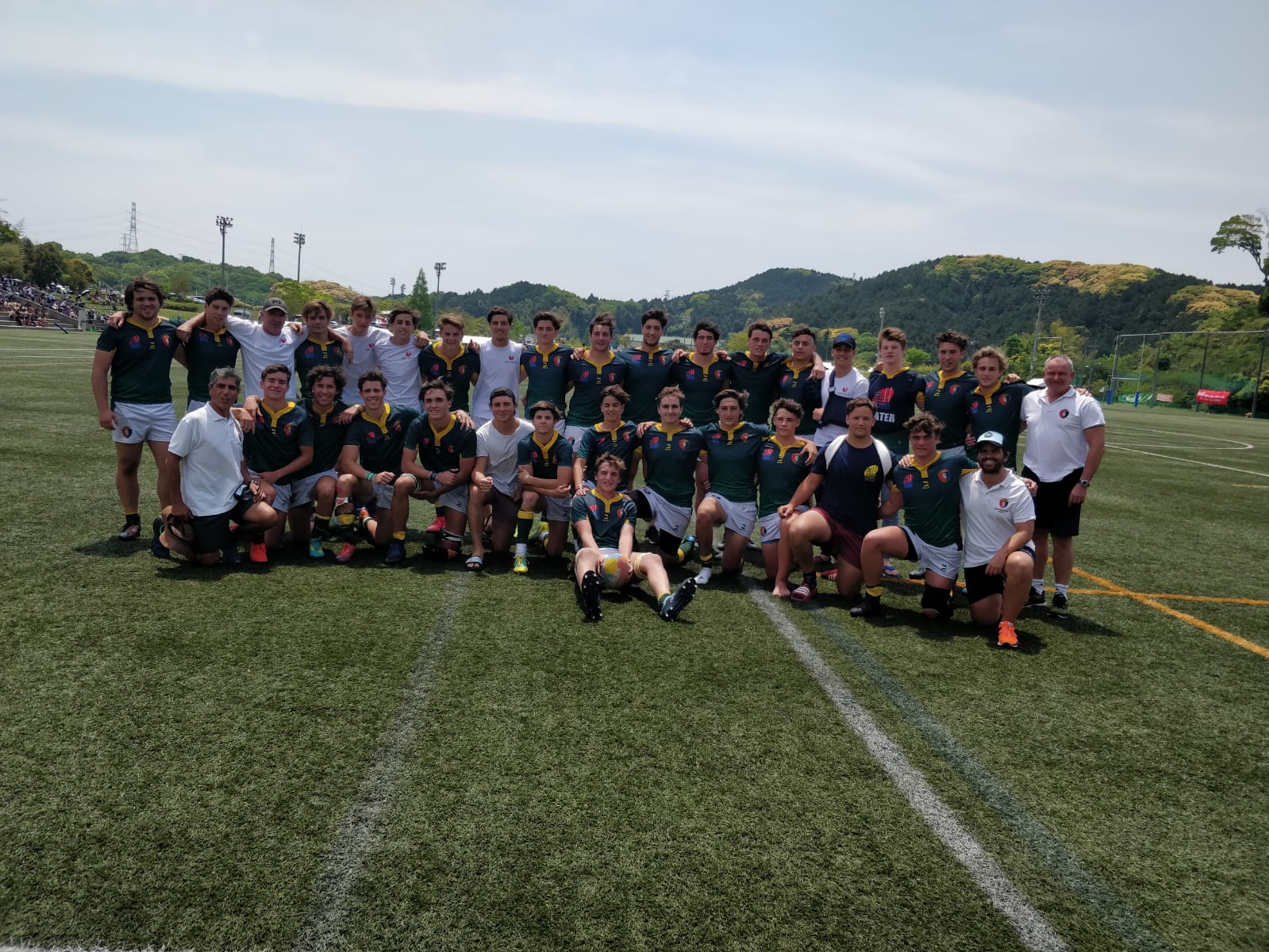 The British English Olympics (BEO) is an exciting academic contest targeted to the world's brightest international students. The competition spans just under three weeks and it takes place in prestigious boarding schools in England.
The British Schools has sent two teams, The Poppies and The 21 Free Birds. Led by four teachers from the Senior English Department, thirty eight of our students are currently spending unforgettable weeks in the UK, representing our school and our country, while also enjoying an amazing British cultural experience.
The BEO is focused on educational excellence. It provides an opportunity for our students to read, re-write and perform Shakespeare, to write and perform a song about empathy, charities and fundraising campaigns for the world's most vulnerable people, to debate about the economical, ecological and social impact of unsustainable tourism, to explore distant cultures such as Belize's, and to put their public speaking and improvisation abilities to the test. Nonetheless, most of all, the BEO experience is all about learning beyond the classroom. It is a chance to meet teenagers from all over the world and to develop a sense of integration, adaptation and friendly competition.
All in all, the BEO is an unmissable and enriching experience that will surely provide strong foundations to prepare our students for the challenges of school and life.
The 21 Free Birds:
Team Leaders: Ms Sol Nemeth and Mr Nicholas Drever
Albanell Etcheverry, Josefina
Barcia, Milagros
Calvo, Facundo
Cao Bogani, Camila
Civetta Pérez del Castillo, Sofía
Conde Quercetti, Pilar
Henderson, Fiona
Martínez Sánchez, Chiara
Meerhoff, Tomás
Milano Mesa, Lucía
Muscio, Ma Guillermina
Myszka, Sol
Navarro, Joaquín
Reicht Tellería, Juan Ignacio
Sapia Tea, Valentina
Stein Muratore, Constanza
Stremmler, Sophia
Trabal, Vicente
Wajner, Martina
The Poppies:
Team Leaders: Ms Victoria Bauzá and Mr Santiago López
Aguirre Blanco, Ma Milagros
Beyhaut, Milagros
Caffera Sueyras, Santiago
Casulo Lapido, Juan Pablo
Denis, Ignacio
Fernández Manhard, Delfina
Gomensoro Hounie, Carmen
Gonzalez Moreno, Felicitas
Heijne, Casper
Ichart Vieytes, Máximo
Ingrey, Sara Cruz
Lyford-Pike, Maia
Melazzi, Clementina
Paullier Rodríguez, Delfina
Raffaelli Vigil, Inés
Ramirez Negro, Felipe
Rivero Delgado, Delfina
Salas, Candelaria
Young, Juan Enrique
Subscribe to this RSS feed