En la Facultad de Ingeniería se realizó el Campeonato Uruguayo de Sumo Robótico (sumo.uy).
Los robots que compitieron en las categorías sumo y básica debían ser dispositivos móviles autónomos. O sea deben de ser capaces de moverse y cumplir con los objetivos planteados en cada oportunidad sin intervención humana.
El día 2 de Setiembre los alumnos que participaron en la competencia lucha de sumo de Robots fueron:
Primer año: Milagros Melhem, Franco Malde, Mateo Abi Saab, Gabriel Lyford Pike
Segundo año: Guzman Zugnoni, Joaquín Salmon, Cipriano Dorbessan, Skye Atkins
Tercer año: Augusto Leborgne
Cuarto año: Delfina Olaso y Matías Danten
Los alumnos utilizaron el pensamiento computacional, para lograr que el robot de manera autónoma, no se saliera de la pista de sumo y cuando detectara a su contrincante fuera hacia él de manera de quitarlo de la pista. Los alumnos además fueron "Audaces", ya que debían cambiar en segundos el código para lograr corregir errores y no tenían suficiente tiempo. Si algo no andaba bien con el programa del robot, el mismo se resolvía de manera rápida.
Desde el día 3 de Setiembre al día 5 de Setiembre, los alumnos (a excepción de los de 1er año), participaron en la categoría Básica. El robot de manera autónoma debía esquivar obstáculos que encontraban a lo largo de su camino, el robot debía seguir una línea previamente marcada y pasar por distintos obstáculos como: despertadores, lomas, y además durante el trayecto debía de tomar una pelota y llevarla hacia un lugar designado. En dicho lugar debían dejar la pelota y recoger una segunda pelota con la cual también debía realizar la misma acción. La pista no era del conocimiento previo de los alumnos, hasta que llegaban al lugar. Con el transcurso de los días iban aumentando la dificultad ya que la pista se iba modificando. Los alumnos para todo lo relacionado con la competencia, tuvieron que poner en práctica los siguientes atributos del IB: "mente abierta", "indagadores", "audaces", "reflexivos", "pensadores" y "comunicadores" ya que trabajaban en equipos y se ayudaban entre ellos, para resolver los problemas a los cuales se enfrentaban y así realizar el programa o corregirlo para lograr superar los objetivos.
En la categoría básica los grupos fueron:
LosUffoide Robot que pertenece a: Agusto Leborgne, Guzmán Zugnoni y Joaquín Salmon.
Chunga Hoo Robot que pertenece a: Cipriano Dorbessan y Skye Atkins.
Cosito que salió octavo en la general, el robot pertenece a: Delfina Olaso y Matías Danten.
On Thursday, September 12th,we held the FOOTBALL and HANDBALL interhouse for F3 TO F6.
We enjoyed a sunny day filled with laughter and sportsmanship.
| | | | |
| --- | --- | --- | --- |
| Football | 1st | 2nd | 3rd |
| F3 | J | C | B |
| F4 | J | B | C |
| F5 | B | J | C |
| F6 | C | J | B |
| | | | |
| --- | --- | --- | --- |
| Handball | 1st | 2nd | 3rd |
| F3 | K | P | Q |
| F4 | Q | P | K |
| F5 | Q | K | P |
| F6 | Q | P | K |
El miércoles 4 de setiembre el Colegio participó del Torneo de Atletismo "Tito Verginella" organizado por la LID en la Pista Oficial de Atletismo con una selección de 1YL, 2YL & 3YL.
Participaron los siguientes Colegios: San Juan Bautista, Woodlands, Ivy Thomas, Los Pilares, Monte VI, St. Patrick´s y Stella Maris.
Felicitamos a los participantes por su esfuerzo y resultados obtenidos!
Click aquí para ver los resultados.
¡Qué lindo que es filosofar! ¡Qué libre que se siente!
En este cuarto encuentro del Club de Filosofía, reflexionamos sobre lo bello. ¿Qué es lo bello? En esta sociedad contemporánea, muchas veces lo lindo pasa por bello, pero en nuestro encuentro encontramos otra definición, otra mirada. "Lo bello conmueve," declaramos.
¿Cómo llegamos a esta definición tan sintética? El proceso de filosofar es como un despertar. Las bases de una mirada filosófica se construyen desde premisas que razonamos y creemos verdaderas. En este encuentro empezamos de a dos, conversando. Cuando esas dos personas encontraron un punto en común, se juntaron con otras dos, hasta que filosofamos entre todos. Esta dinámica nos permitió escucharnos, pensar en esas bases y establecer concordancias.
En esta instancia, teníamos como disparador un texto del filósofo coreano-alemán Byung-Chul Han titulado "Lo Pulido". Han discute la concepción de lo bello visto desde el arte, algo que se ve en las obras de Jeff Koons, que es perfecto, liso y no ofrece resistencia. A base de este pensar, nos planteamos la pregunta: "Lo bello, ¿excluye la imperfección?"
A lo que llegamos es que lo bello es una construcción humana y necesariamente pasa por los sentidos. Por eso tiene un rol la subjetividad, la experiencia, lo social. De acuerdo con Han, pensamos que lo meramente lindo puede ser superficial cuando solo se valora lo lindo, el 'like' fácil, lo que no desafía, lo entretenido. Diego lo tildó como "la dictadura de lo lindo."
Sin embargo, hay otra mirada. Lo bello permite trascender y hace conectar. Lo bello es lo que conmueve y causa sensación. Este concepto es más desafiante. Se trata de una relación entre el objeto, el sujeto y la sensación. Sea lo que sea, perfecto o imperfecto, lo bello es aquello que conmueve.
In two weeks the 2019 rugby World Cup starts in Japan. The British Schools is very proud of the fact that we have five former students who will be representing 'Los Teros', Uruguay. We welcomed them this week with a special assembly so the whole school could wish them every success for the tournament. Mr Mark Rosevear started off by saying it is good to have dreams, and it is important to try to achieve them, although sometimes they might not come true. The important part is to always do one's best. For Santiago Civetta, Juan Manuel Cat and Manuel Leindekar their dream of playing in the World Cup will come true. All three played for the school in the 2014 Sanix tournament in Japan, and now they will be returning five years later as international rugby players. They join Juan Manuel Gaminara, the Captain, and Andrés Vilaseca, who will be playing in their second World Cup tournament. Two other former students, Juan Manuel García and Joaquín Pastore, are part of the staff but unfortunately they could not be with us today. The students asked some great questions and one proudly told Manuel Leindekar that he had his sticker for his album!
Juan Manuel Gaminara concluded with a speech making a very important point. Many of the students' questions referred to winning, and he said that sport, as well as life, is not all about winning and losing. He clarified this by adding that different people have different objectives, and if they achieve these objectives, then they have won.
The speech in full can be heard here
We are very happy that we could recognise how well the five of them have done, now that they have achieved the first part of their objective. Congratulations, and we send our best wishes to them and the rest of the Uruguay team for the World Cup.
Dentro de la Unidad de indagación "Cómo nos expresamos" y en conexión con la segunda línea de indagación "Cómo celebran las distintas culturas la creatividad", los alumnos de F4H y F4C visitaron el Museo del Gaucho, como personaje de nuestra historia que es la conjunción de diferentes culturas. Los alumnos disfrutaron de una charla interactiva, donde se explicó su origen, su estilo de vida, su vestimenta, etc. Fue una experiencia muy enriquecedora, la cual dentro de poquito tiempo, van a poder disfrutar F4Z y F4G.
Prep students are learning the numbers from 1 to 100, and since the beginning of the School year they counted the days until they reached 100 last week!
Teachers connected the unit of inquiry "Long, long ago" and the maths content and asked students to come dressed as their grandparents or great-grandparents to celebrate 100 days of school and learn about schools 100 years ago. It was a meaningful experience full of happiness and learning.
Click here to see the photos!
El pasado jueves 22 de agosto, 4 alumnos de 5°Científico participaron del "Spaghetti Challenge", concurso patrocinado por la Universidad Ort Uruguay. Los alumnos llevaron dos estructuras construidas con spaghetti y silicona que representaban a los dos grupos de 5°Científico. El Concurso contó con 30 estructuras participantes y las alumnas Ria Stirling y Martina Saráchaga lograron el 3er. puesto dentro del concurso. Este concurso ha sido un excelente medio para desarrollar un proyecto entre Artes y Ciencias en el cual los docentes Haroldo Eastman y Enrique Cederbaum trabajaron en equipo compartiendo espacios con los alumnos orientándolos en el diseño, la forma y la función estructural para generar estructuras eficientes*.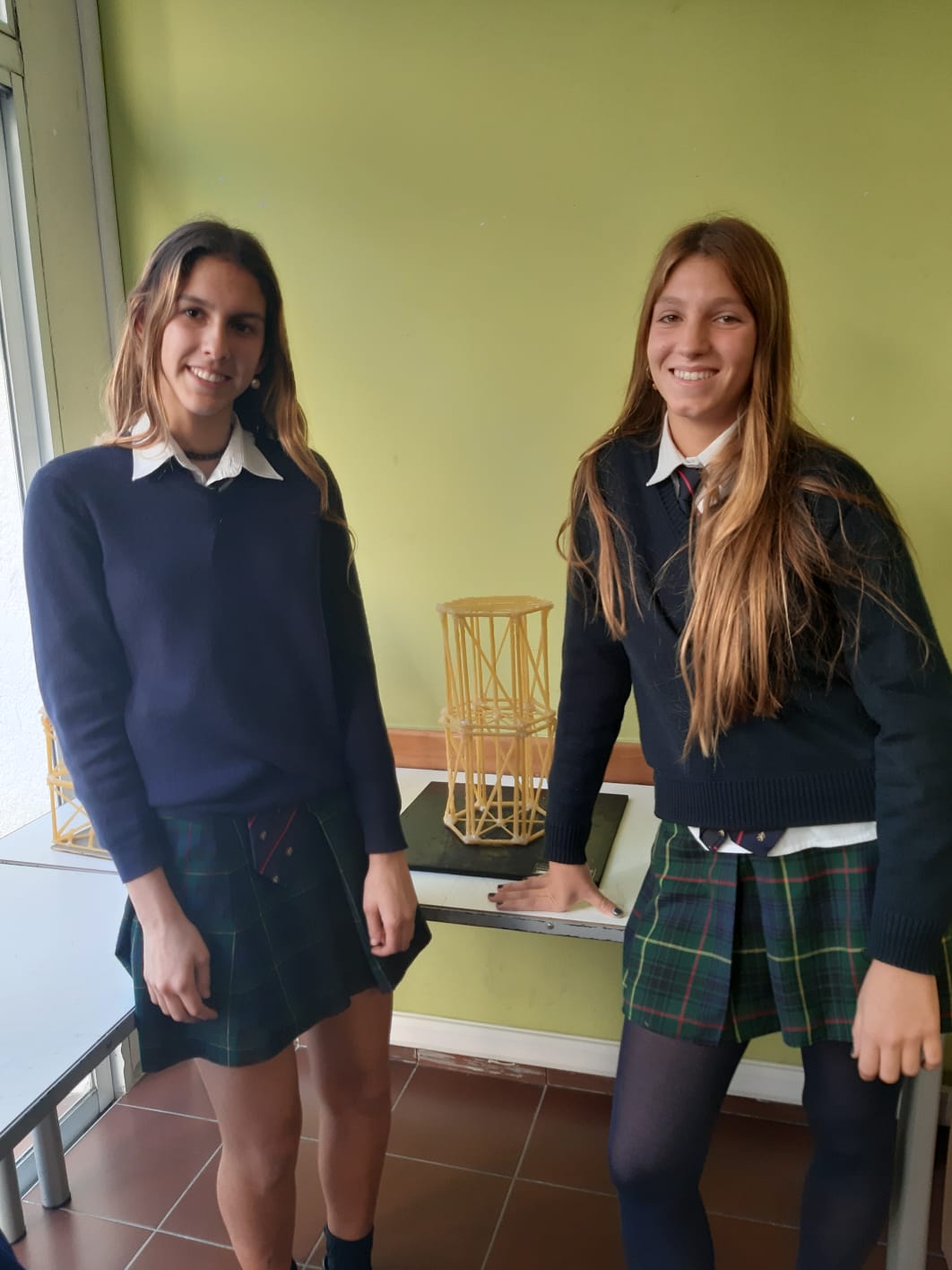 Subscribe to this RSS feed