Los terceros recorrieron Carrasco junto a su maestra de Español dentro del marco de la indagación: "Cambios en una comunidad a través del tiempo". Observaron las construcciones emblemáticas del, en sus inicios, balneario para contrastarlos con las transformaciones del actual barrio. Comprobaron los cambios y permanencias de Carrasco en sus más de 100 años.
On Saturday, May 25th, a delegation of 19 students attended CMUN, a Model United Nations conference hosted by Instituto Crandon.
In addition to addressing the difficult situation in Venezuela, Tibet and Western Sahara, some other topics debated during the day included:
Illegal arms trade
Money laundering
Preservation of historical heritage
Gender disparity in politics
Stateless people and birth registration
Population control policies
We congratulate all participants, and extend a special recognition to:
Our new club delegates: Juan Bautista Beyhaut (Y4L), Josefina Gorlero (Y1L), Bautista Martínez (Y3L) and Francisco Sequeira (Y2L).
Paulina Cassoni (Y6L) and Ignacio Monsuárez (Y3L), whose resolutions passed.
Dylan Fairless (Y4L), Francesca Ferrari (Y4L), Agustin López (Y3L) and Juan Sequeira (Y4L), who chaired the debate with enthusiasm and commitment.
On Monday, May 20th, students of IB Physics and HL Chemistry went to visit CUDIM (Uruguayan Center of Molecular Imaging). There, radiopharmaceuticals are produced and then used as a diagnostic tool in PET (positron emission tomography) scans. The students received an introductory talk where the main features of the center were explained, and then were able to go to the labs to get a closer look at some impressive devices used in the process.
It was an amazing oportunity for the students to bring down to earth and learn about specific applications of some theorical and abstract concepts worked in the course, and at the same time get in touch with one of the most cutting edge scientific facilities of out country.
For our second Line of Inquiry, 'The different uses of rocks,' Form 3 students went to the Science lab to 'tune-in.' Students looked at the properties of different types of rocks in small groups and noted down what they observed, adding their burning questions on the white board as the lesson progressed.
El propósito del viaje fue vivenciar Buenos Aires desde una perspectiva cultural, dada la gran oferta de posibilidades que nos ofrece esta ciudad en lo que a Arte y Cultura respecta. Visitamos museos, lugares históricos, exposiciones y asistimos a espectáculos teatrales.
Todas las actividades se desarrollaron con guías especializados y se generaron debates interactivos con los alumnos. A su vez los docentes prepararon actividades específicas a desarrollar dentro de los museos. En las clases, se tomará el material trabajado en el viaje para diversas actividades vinculadas a los programas de cada una de las asignaturas involucradas.
Esta experiencia ha resultado, de gran interés para nuestros alumnos de Bachillerato de Arte y Expresión, Visual Arts y Theatre y también para los docentes acompañantes.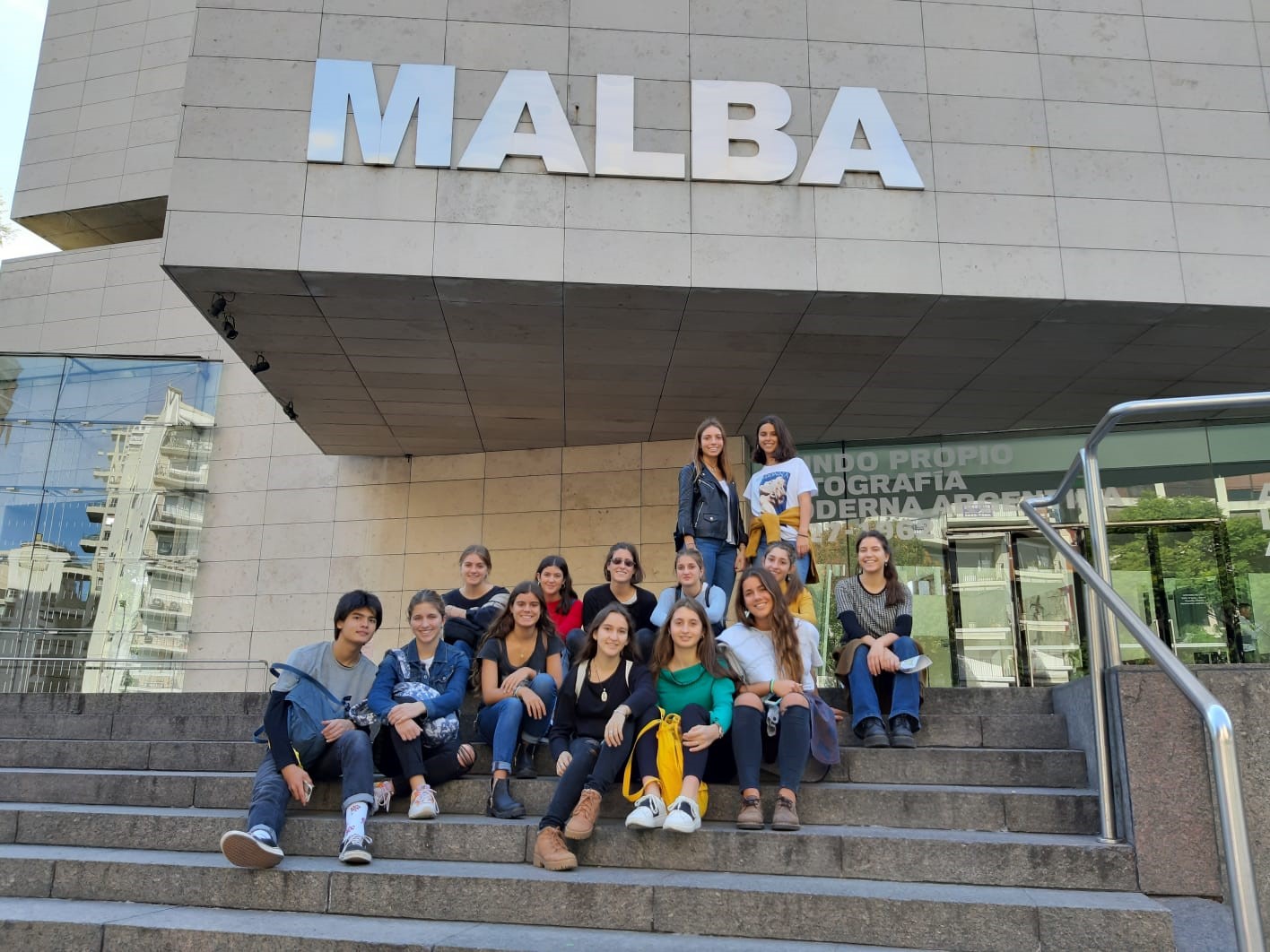 El día Martes 21 de mayo, asistimos a ImpactUp con la generación de 5YL.
Asistimos a este encuento que busca desafiar a los estudiantes de bachillerato dándoles herramientas para empoderarlos y hacerlos responsables del cambio. Escucharon historias movilizadoras e inspiradoras de jóvenes que emprendieron en empresas que impactan positivamente en la sociedad actual. Tuvimos la oportunidad de escuchar historias de oradores de Uruguay y Argentina en el Teatro Movie.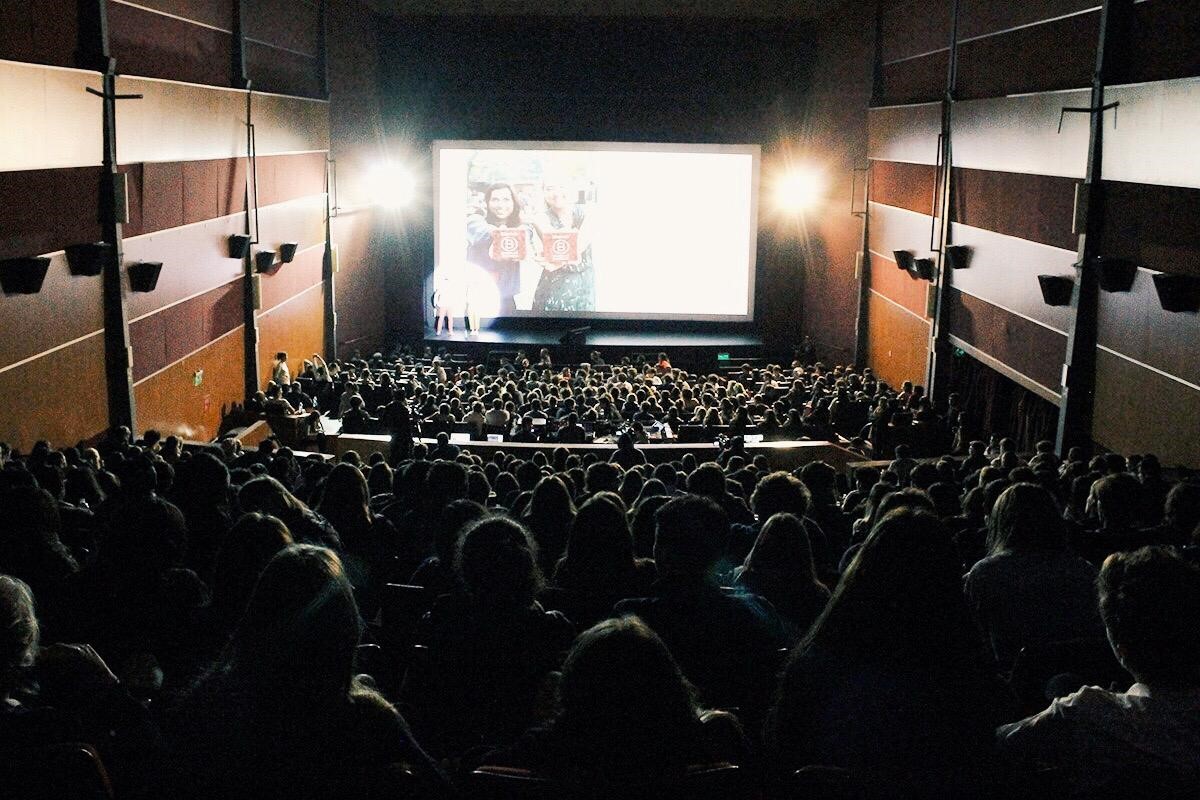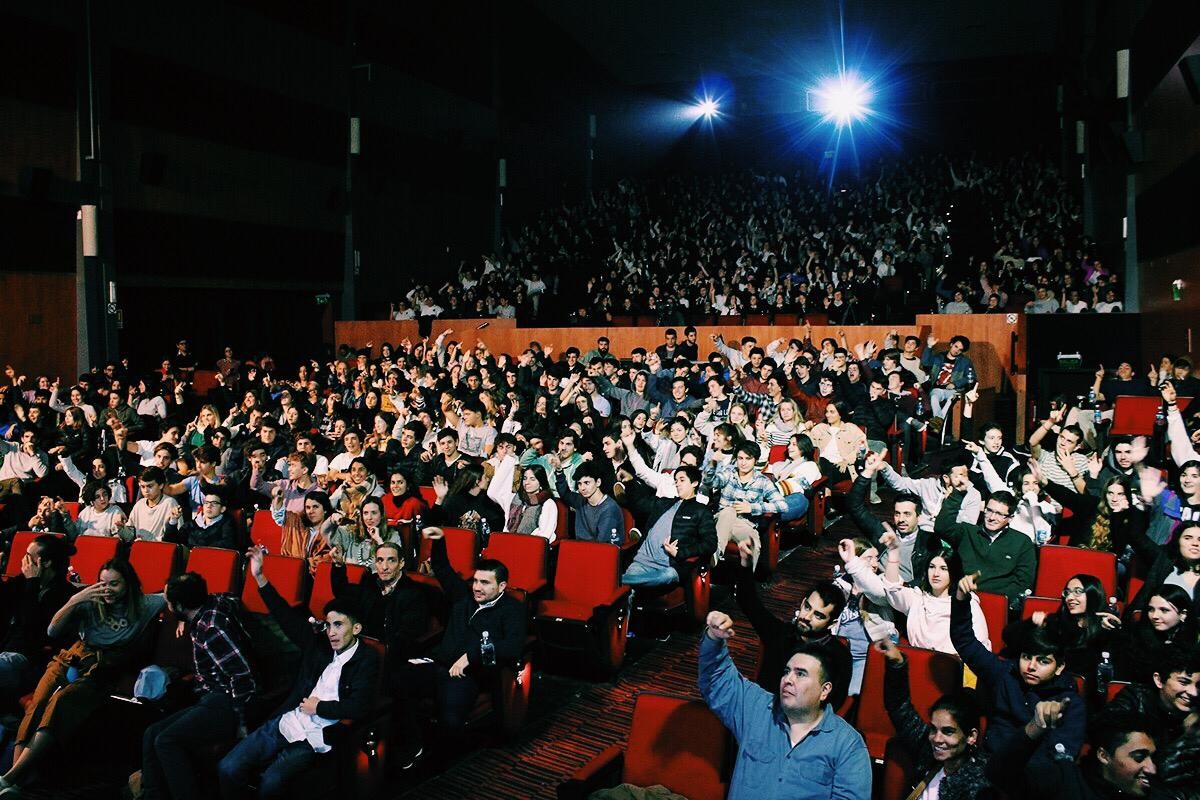 Last week two universities visited the school. The University and Careers Guidance Counsellor invites 4YL, 5YL and 6YL student s to attend the meetings and presentation and those interested needed to register.
Karen Kelly, Senior Outreach Officer for Latin America and Caribbean, of NYU Abu Dhabi University visited TBS on Wednesday May 15 @ 12:15 For more information: https://nyuad.nyu.edu/en/
The day after, Shanell Cartagena, Senior Assistant Director of International Admission of Bentley University delivered two workshops on: Writing a College Essay and . Preparing a winning application. Many of our students actively participated of the workshop and continued to build upon their knowledge on college applications. For more information: https://www.bentley.edu/
Al finalizar mayo va a estar comenzando el ciclo del club filosófico coordinado y moderado por los profesores de filosofía y TOK en secundaria.
Este club se está desarrollando desde hace ya un par de años con mucho éxito y gran convocatoria por parte de los estudiantes, y es gracias a esto que se decidió crear una programática sostenida durante todo el año con diferentes encuentros que ya tienen fecha y tema.
¡Esperamos verlos a todos ahí!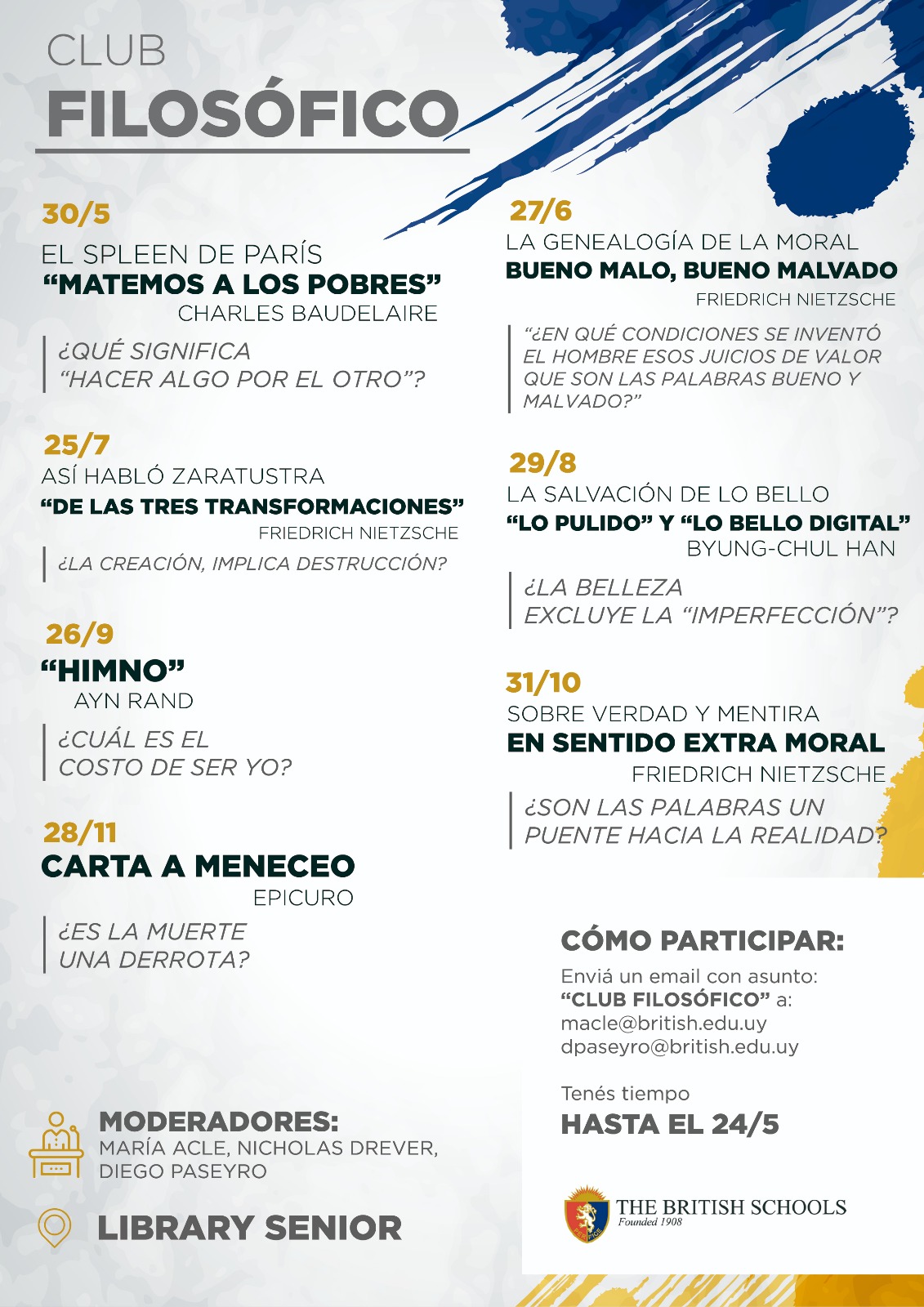 Subscribe to this RSS feed