The St. Andrew's Essay competition, which is organised by the St. Andrew's Society of the River Plate, took place on Wednesday 12th June 2019. The competition is open to 10 to 18 year old students in Argentina and Uruguay, and is held on the same day at all schools. Students who participate have the opportunity to apply their English language skills together with their imagination and creativity. It is also a chance to encourage the students' charitable nature as proceeds of the competition are donated to different organisations in need of support.
Senior students who participated: Dylan Fairless, Francesca Ferrari, Christian Ingrey, Josefina Lorenzo, Benicio Borrás, Francisco Fulquet, Clara Tolosa, Mateo Pilorget, Milagros Ruiz, Julieta Deus, Guzmán Zugnoni, Skye Atkins, Cipriano Dorbessan, Melissa Danten, Francesca Schneck, Indira Reyes.
Junior students who participated: Federica Vidiella, Julio Seizer, Mateo Tolosa, Malena Carrau, Benito Alexander, Rosario Deus, Olivia Lasalvia, Federico Souto, Emilia Stirling, Eugenia Macgill, Inés Varela, Haroldo Gomensoro, Alejo Martínez, Guillermina Valeriani, Venancio Acosta y Lara, Ma. Clara Bia, Leah Cowley, Emma Dorbessan, Tiago Stremmler.
The aim of this trip was to have our students to experience "one day as a University student" in the ORT University and apply Computer Science skills outside the classroom.
Programming teachers and other staff planned a whole activity for our students to go to the IT labs over there and program so as to have a working app in 2 hours. This was achieved with MIT App Inventor which is similar to Scratch, a tool taught in IT classes at our School. In the IT labs every student had a computer and an Android tablet with all the needed software already installed and running. Some students worked in pairs while some others preferred to work alone.
The whole activity was a pleasure to observe, since every single student was fully concentrated on the task and as time went by, they could see the results of their apps working on their tablets.
By the end of the course, they were all handed copies of the steps needed to do re-do those apps that they created throughout the course, a notebook, pens and a brochure with information about the available careers of the University.
At the end of the day every single person who was with us at the University congratulated them on their behaviour and dedication. They were all very concentrated the whole time, working with real joy and they all finished the course very proud of themselves too.
Agustina Sapelli - Computer Science teacher
Some comments by our students:
"Visiting the ORT was a great experience, we had the possibility to receive an insight on how to create a video game and the university itself, in my experience, it was very useful since I was always extremely interested in game designing, and I had the pleasure of learning how to in an extremely exciting and fun way. In addition, the helpers were very nice and that presented a very nice environment. This particular university is my number one preference for my college experience, I just wanted to go because of experiences and perspectives from my family and friends, but this field trip affirmed my wishes. Regarding the learning experience, I found it very exciting due to the fact that while carrying out all the technical part, we thought to ourselves that an amazing result will be presented to us, a good result from hard work. However I found it genuinely easy to carry out since, we had all the instruction given to us in a paper, what I found interesting was how we got used to all the buttons and the layout of the page, while we kept on practicing. All in all, I could say that this field trip was personally very useful but at the same time extremely thrilling and fun." MARÍA TORRENDELL
"The trip was really good, it was fun learning more about computing and programing. The games we played that were to make a programs and try them on the tablet were a really good idea, me and my friend that were together really enjoyed it. The part I liked the most was when we had to make a program about drawing, it was not easy but I liked it. I'm still confused if that is the type of programing you do in the ORT or if it was just a game. One thing I would do to make the trip better next time would be the waiting time at the lobby." LUCAS VILLARONGA
"Personally, I really enjoyed the trip we did with the whole computer science group. I believe it was an instance to know more about what computer engineering and computer science is about and the different applications that can be created with multiple function. As I will be doing computer engineering, I liked the trip a lot, although I must say that the final 30 minutes were a bit too extensive and continuing with the same type of exercises was quite tiering. Nevertheless, if another instance like this was done I would be happy to attend, and maybe sometimes leaving the class with your group helps you get along better together, as well as free our mind from all the stress from school." ANDREW RONALD COOPER
The PYP workshop for 2018-2019 new families to The British schools took place on 6th June. Its aim was to go over the philosophy, structure and elements of the IB Primary Years Programme. This is an example of how we enhance parental involvement to increase their understanding of the PYP learning process.
The workshop started with a theoretical presentation and moved to 3 different "hands on" stations. Parents expressed their enjoyment, curiosity and eagerness to better understand the British Schools´ approach to learning through its international programmes.
This PYP workshop is one of a series of opportunities that parents have to get more familiarised and involved in their child's education. Although this one was specifically aimed at new parents to PYP, we will soon invite all parents to new instances and workshoprs to discuss and learn about the PYP learning process.
Last June 5th, 6th and 7th, all 6YL students participated of Worklinks.
Worklinks is the name given to the Internships Programme run by The British Schools. The programme provides an opportunity for students to experience a variety of professions in ´real life´situations. With the kind collaboration of businesses from a variety of areas, and the articulation of the Parents Committee and our University and Careers Guidance Counsellor students are able to gain very useful hands-on experience of life in the workplace.
Internships help students better understand their possible field of interest, cement (or at times change) their career interests and generally provide them with an insight into the world of work.
En el marco del programa CAS que se desarrolla en el Colegio entre el 10 y el 21 de junio, en Senior School estaremos llevando a cabo una nueva edición de la campaña solidaria "yo te abrigo".

El objetivo de la misma es recolectar prendas de abrigo para luego donarlas a las Instituciones CAS con las que trabajamos (Alfareros, Caif del Lago, CADI, Colegio Don Bosco, Cottolengo Masculino, Cottolengo Femenino, Escuela 183, Escuela Lido y Hospital Piñeyro del Campo).

En el hall de entrada se encontrarán contenedores en donde pueden incluírse dichas donaciones.

¡Gracias a todos por su colaboración!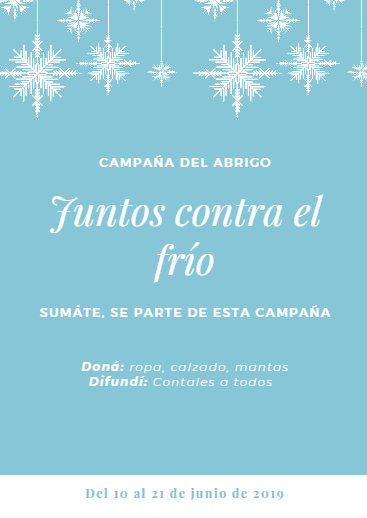 On Friday, May 31st, the School hosted the second edition of TBSx, where 7 former students shared their stories to raise funds for the Reaching U Foundation and for our different CAS projects.
Blas Melissari shared with the audience his hydroponic projects and innovations, Sofía Puig delighted the audience with her learnings as head of Enseña Uruguay and its huge contribution to Uruguay's public education. Gabriel Varela shared his views and anecdotes about The British Schools and the sense of belonging of its community, and Juan Manuel Gaminara talked about his experience as the Captain of the National Rugby Team and the different challenges he had to face. Agustina Roig spoke about her project MeHumanity and the passion that drives her to keep growing, Jaime Miller his love for Golf and his work with the Escuela de Golf Chimont and María Deal shared her love for music, and her experience as a professional musician.
To all of them, our thanks for making this event possible.
El pasado viernes 31 de mayo alumnos de 1ro y 5to artístico de Liceo concurrieron al MUHAR, Museo De Historia del Arte (Palacio Municipal, Montevideo). El objetivo de la actividad era tomar contacto con elementos originales (momia egipcia) o réplicas de objetos (acrópolis de Atenas) que tienen que ver con temas abordados en los programas de Historia de ambos cursos.
Así mismo también implicaba que las alumnas de 5to artístico oficiaran de "guías" para los alumnos de primero.
La actividad fue coordinada dentro del Departamento de Humanidades por los Profesores Daniel Benzano y Fabían Moggia y contó con el apoyo de otros nueve docentes para cumplir con todos los requisitos exigidos por Secundaria en cuanto al número de docentes por alumno en una salida didáctica.
Impresiones de las alumnas de 5to: "me ayudó con los orales, y se me fue la vergüenza" María Jesús Symonds, "Encontramos que los alumnos tenían buen nivel" Julieta Deus.
Impresiones de los alumnos de 1ro:
"En el museo pudimos aprender y también divertirnos por lo que nos enseñaron algunas alumnas de quinto. Pudimos estar como grupo en silencio y eso no es común".
"Me gustó mucho la visita al museo porque aprendimos muchas cosas nuevas y fue muy interesante. También me gustó mucho porque entendí bastante lo que nos explicaban las de 5to.Y también porque vi cosas que nunca hubiera pensado que vería, como una momia".
"La salida al museo estuvo divertida e interesante, aprendimos muchas cosas. Lo que más nos gustó fue la momia. No cambiaríamos nada porque todo nos pareció muy completo"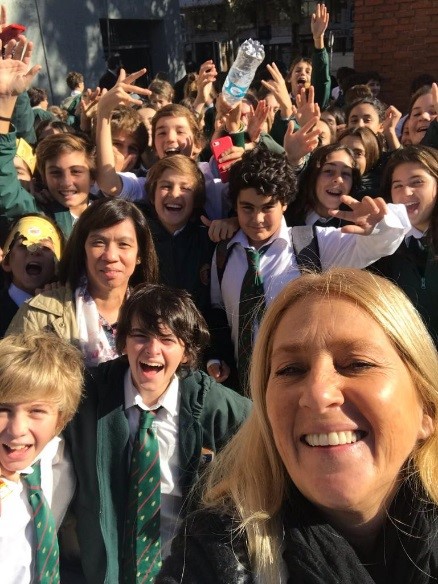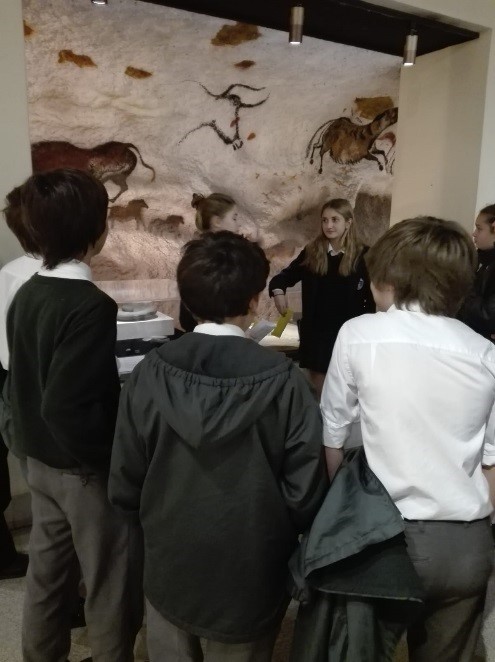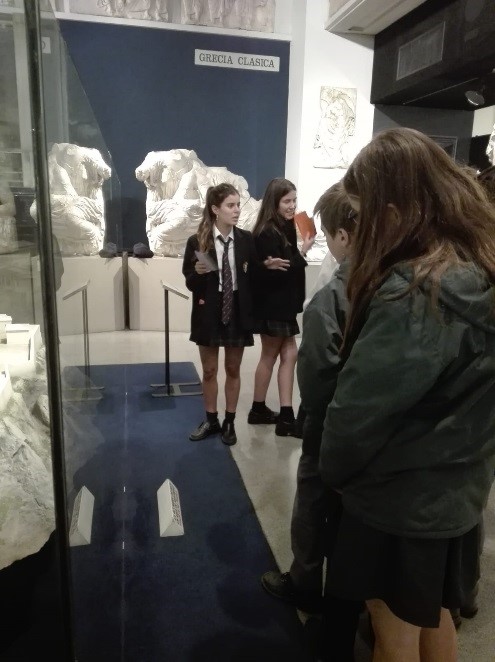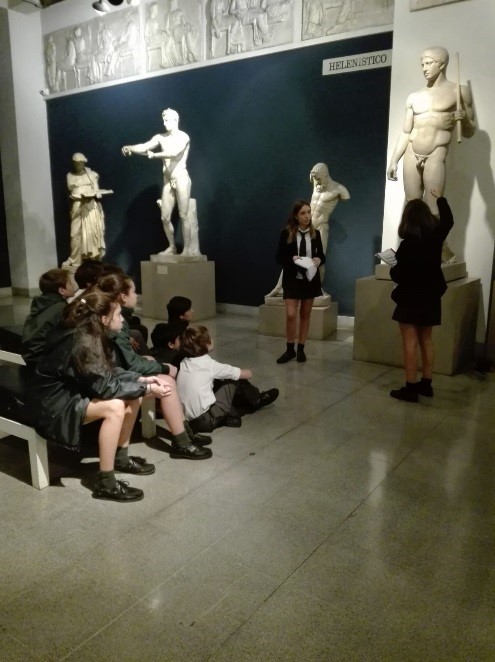 On Wednesday, May 29th, 27 students from 3YL and 4YL headed towards Chile to experience five days filled with adventure and sport. The first three days the team was warmly hosted by families of The Grange School and the other two nights they stayed at a hotel.
On Thursday they went on a trip to the mountain and had lunch at the Craighouse School, where they played the local team in the afternoon and won 29/24.
On Friday morning they visited the city center and Cerro Catedral, to which they arrived on funicular. This was a massive sight that the boys very much enjoyed. They had lunch at The Grange School and later they did their training there.
On Saturday they participated of a tournament with 8 Chilean schools, of which they obtained 2nd place after beating Dunalastair 40 - 0, St. George´s 19 - 7, The Grange 12 - 7 and losing the final to Craighouse 7 - 26. They played an excellent tournament and the cherry on top was that some parents made the trip to Chile in order to cheer them on Saturday.
On Sunday morning they went rafting on the "Cajón del Maipo" and then revered on a rural asado and outdoor activities.
Monday was a free day to do some shopping in the morning and in the afternoon, the team returned to Uruguay.
We must mention the words said by the Principal of The Grange School when we were saying our goodbyes, he congratulated all of the students on their education, their playing level and because all the hosting families were very pleased with The British Schools students.
Without a doubt these trips mean unforgettable experiences for the students. Knowing other cultures, sharing moments with other same aged boys from other countries, living in the homes of other families and facing unknown teams in the sporting arena enable our students to discover their strengths and weaknesses in order to resolve new challenges and problems. Facing unknown and sometimes uncertain situations and learning to adapt makes them broaden their toolkit for future experiences.
Subscribe to this RSS feed