Entre viernes 9, sabado 10 y domingo 12 más de 150 alumnos del Colegio participaron de los torneos de rugby y hockey en el Carrasco Polo.
En rugby, la categoria M17 obtuvo la Copa de Oro, ganando en finales sucesivamente a OCC por 12-6, Seminario por 14-6 y la final a Polo por 10-5. A su vez la M15 llegó a cuartos de la Copa de Oro y la M14 y la M13 jugaron 4 partidos cada una en forma de jornada.
En hockey, la categoria M19 del club obtuvo la Copa de Oro en definición por penales vs al gran equipo de náutico. La M16 que fue con 3 equipos llegó a la final de Copa de Oro y la M14 también con varios equipos llegando a semis de oro. Un fin de semana de muchos éxitos tanto para el hockey como para el rugby.
¡Felicitaciones a todos los jugadores y coaches!
Last Saturday, November 9th, the first U16 Basketball encounter was celebrated at The British Schools.
The participating schools and clubs were: Areteia, Edu School, Larre Borges, San José de la Providencia, Trouville, Unión Atlética, The British Schools. Over 120 boys attended and played several matches. It ended with a nice get together of all the players.
La categoria M17 de rugby del British Schools ganó nuevamente y por tercer año consecutivo el torneo Uruguayo de rugby organizado por la URU.
El plantel compuesto por 40 jugadores nacidos en los años 2002 y 2003 (alumnos de 3YL, 4YL y 5YL) jugó 23 partidos desde marzo a noviembre ganando 21, empatando uno y perdiendo uno y eso lo colocó en el primer lugar de un muy peleado torneo con el colegio Seminario.
El domingo pasado en su viaje a Mercedes jugaron su último partido y gracias al triunfo de 69-12 frente a Remeros se quedaron con el primer lugar del torneo.
Gran parte de este plantel está compuesto por los chicos que realizaron la gira en marzo/abril a Nueva Zelanda, Australia y que terminaron jugando el torneo Sanix en Japón, gira que fue importantísima para la preparación y para el posterior logro de este torneo.
¡Felicitamos a jugadores y staff por estos resultados!
After many years, the School once again had a chance to take a football trip. A group of 17 players from our U16s travelled to the city of Rosario, Argentina, to play matches during last weekend. They played against Jockey Club de Rosario and Club Atlético del Rosario.
They won two matches on Saturday and lost one. With another win on Sunday, the players finished on a high note.
In addition to the sporting activity, they took the opportunity to visit the city and share time together.
The U16 Football team is the youngest category to play in the Liga Universitaria Tournament. For the second time in a row, The British Schools U16s won the Bronze Cup. It is relevant to mention that they play against clubs where recruitment and training of players is very different from that of a school.
We congratulate all players for their commitment, repeatedly shown each Sunday at the matches.
Last weekend, the Valentín Martínez Tournament took place at the Carrasco Polo Club where
The British Schools U15s, undefeated, conquered the championship
in their category:
14-0 vs
Pueyrredón Argentina
27-5
vs Estudiante Olavarría Argentina
They qualified for the semi-finals winning against Sporting Mar del Plata 3-0 during extra time. A win against St. Brendan´s Argentina 13-12 took them to the finals and then an impressive win against Chacras de Mendoza 17-5 sealed the championship.
Congratulations to the players and technical staff for this outstanding achievement!
We are delighted to announce that our M16 Football Team received the prestigious 'Fair Play' Award from the Liga Universitaria for Best Conduct 2017.
Congratulations to our U20 Rugby National team that achieved the highest honour last week in Paraguay, crowning themselves champions of the Sudamericano. What is more, that gives them the straight road to the U20 World Cup to be played in Romania in August. We are extremely proud of their achievement.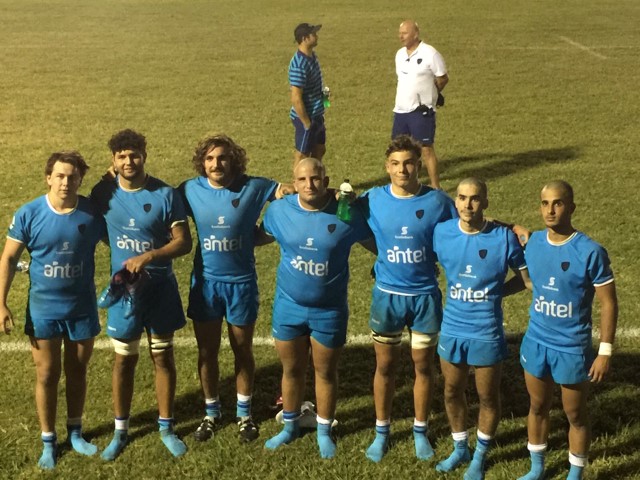 They are: Cesar Riviere, Joaquín Garcia, Santiago Civetta, Faustino Etchegorry, Maxime Sonneveld, Alfonso Cat, José Iruleguy.
Subscribe to this RSS feed