After many years, the School once again had a chance to take a football trip. A group of 17 players from our U16s travelled to the city of Rosario, Argentina, to play matches during last weekend. They played against Jockey Club de Rosario and Club Atlético del Rosario.
They won two matches on Saturday and lost one. With another win on Sunday, the players finished on a high note.
In addition to the sporting activity, they took the opportunity to visit the city and share time together.
The U16 Football team is the youngest category to play in the Liga Universitaria Tournament. For the second time in a row, The British Schools U16s won the Bronze Cup. It is relevant to mention that they play against clubs where recruitment and training of players is very different from that of a school.
We congratulate all players for their commitment, repeatedly shown each Sunday at the matches.
Last weekend, the Valentín Martínez Tournament took place at the Carrasco Polo Club where
The British Schools U15s, undefeated, conquered the championship
in their category:
14-0 vs
Pueyrredón Argentina
27-5
vs Estudiante Olavarría Argentina
They qualified for the semi-finals winning against Sporting Mar del Plata 3-0 during extra time. A win against St. Brendan´s Argentina 13-12 took them to the finals and then an impressive win against Chacras de Mendoza 17-5 sealed the championship.
Congratulations to the players and technical staff for this outstanding achievement!
We are delighted to announce that our M16 Football Team received the prestigious 'Fair Play' Award from the Liga Universitaria for Best Conduct 2017.
Congratulations to our U20 Rugby National team that achieved the highest honour last week in Paraguay, crowning themselves champions of the Sudamericano. What is more, that gives them the straight road to the U20 World Cup to be played in Romania in August. We are extremely proud of their achievement.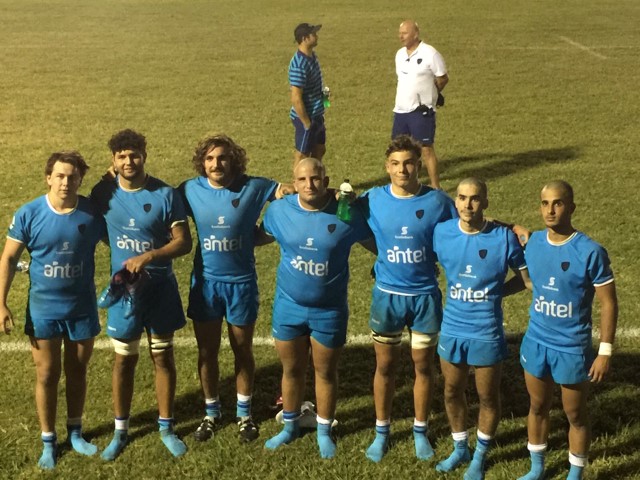 They are: Cesar Riviere, Joaquín Garcia, Santiago Civetta, Faustino Etchegorry, Maxime Sonneveld, Alfonso Cat, José Iruleguy.
Un camino
El hockey es parte fundamental en la formación de nuestras alumnas. Su primer contacto con este deporte es a los 7 años, cuando entran a Form 2. Allí comienza un camino fascinante, que para algunas, y aún sin saberlo, va a ser un camino para toda la vida. Sin embargo, sea este camino más largo o más corto, lo que es seguro es que el hockey las habrá enriquecido.
Comienza como un momento de juego y diversión, donde adquieren sus primeros conocimientos: la toma del palo, los golpes y las reglas básicas. Año a año irán mejorando su técnica, perfeccionando sus pegadas, agregando habilidades y entendiendo el juego en su sentido más amplio. Pero lo más lindo del hockey es lo que no se ve: lo que hay detrás de un gol, de ganar un partido dando vuelta un resultado, de un abrazo en el círculo previo o de las lágrimas de una final perdida. Atrás de todo eso esta la verdadera esencia del hockey que no hace otra cosa que reforzar los importantes valores que el colegio le inculca día a día a los chicos.
El hockey es entender que todas juntas son más importantes que las individualidades, que sin esfuerzo no hay éxito, que sin compromiso y dedicación no se pueden lograr grandes cosas. El hockey es sacar enseñanzas de cualquier situación, aún perdiendo. El hockey es valorar y entender a las compañeras y estar ahí cuando te necesitan. Es respetar al rival y a los árbitros. Es saber perder y también saber ganar. El hockey es conocer el valor del cuidado del cuerpo, reconocer que una vida sana nos lleva siempre por mejores caminos.
Pasarán los años y las chicas se irán destacando por sus diferentes atributos: la aguerrida, la habilidosa, la apasionada, la goleadora, la que siempre está, la carismática. Todas juntas formarán un equipo con personalidad única, pero con un denominador común: defender en esa remera verde los valores importantes de la vida, esos que cada día el colegio le transmite a sus alumnos.
Para quienes amamos el hockey, es emocionante ver cientos de niñas contentas y seducidas por este deporte tan lindo. Es divino verlas dar sus primeros pasos en el sintético, un privilegio del que ni siquiera son conscientes. Pero lo más lindo es verlas crecer como personas. Las vemos llegar ese primer día como niñas, tímidas, con sus palitos chiquitos y bucales más grandes que su boca. Y las vemos crecer y florecer, transformándose en mujeres fuertes, apasionadas y bien plantadas, sanas y disfrutando del juego y de las amistades. Algunas inclusive vuelan más alto representandonos con la celeste, llenando de orgullo a quienes las vimos crecer.
En definitiva el hockey es un camino sin destino certero, dependerá de cada una hasta donde llegarán.
Sebastían Castillo
Head of P.E.
El rugby en silla de ruedas es un deporte paralímpico que permite a personas con cuadriplejia realizar una actividad física de carácter competitivo favoreciendo procesos de integración, trabajo en equipo, solidaridad y desarrollo de habilidades.
La actividad será la primer instancia pública del programa Deporte Inclusivo creado en 2014 por la Fundación A Ganar y del que forma parte "Los Criollos" Quad Rugby.

Click image to read more on the OB&OGC website
The British Schools U17 Champions - 6a edición "Dr. Atilio Rienzi" Torneo.
The Tournament took place on the fields of Camino Mendoza and Camino de Los Viñedos – better known as the "Cuervos fields". The British Schools U17 beat local rivals Old Christians 8 - 3 in a closely fought final.
The British Schools U15 team also played brilliantly; reached the semi-finals and only just missed out on victory.
Sebastián Freyre - 4th Year Liceo - received the award for
Player of the Tournament.

Congratulations to the players and trainers on this outstanding achievement.
Subscribe to this RSS feed